Experts collaborate to establish the Sports Technology Quality Framework
Sports Tech Research Network 23/05/2023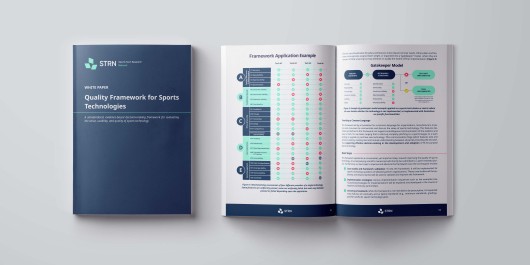 A Sports Tech Quality Framework has been developed in collaboration with industry experts by means of a Delphi study. In a recently released White paper, the framework is introduced as a standardized, evidence-based decision-making approach for evaluating the value, usability, and quality of sports technology. This comprehensive document serves as a valuable resource for all sports technology stakeholders.
The Sports Technology Quality Framework is a new standardized approach to evaluate the quality of sports technologies. Developed by our first Special Interest Group on the topic, the framework consists of 25 measurable features grouped under five quality pillars:
Quality Assurance & Measurement
Established Benefit
Ethics & Security
User Experience
Data Management
By assessing these features, stakeholders can make informed decisions about sports technology adoption, design, and purchasing.
The framework addresses the challenge of the overwhelming number of technology proposals and options available in the sports technology marketplace. Stakeholders often struggle to differentiate between hype and substance, while manufacturers face the challenge of designing and testing their products without a unified standard to guide them. The framework provides a common language for organizations, manufacturers, investors, and consumers to assess and discuss the value of sports technology.
It fills a gap in the underdeveloped regulatory environment for sports technology by offering a standardized and publicly available approach that can inform policy and technology adoption for specific leagues and competitions. It underwent a rigorous development process involving a working group of experts who reviewed existing standards, research, and consensus statements related to technology assessment in sports. Feedback from the field was gathered using a Delphi Study approach. The final framework represents a consensus among the experts, reflecting their collective expertise and insights.
In the next phase, the Sports Technology Quality Framework will be further validated through case studies and industry partnerships. These real-world implementations will provide valuable insights and lessons that will help refine and improve the framework. Additionally, efforts will be made to establish evaluation standards and develop educational resources to enhance literacy in determining the quality of sports technology. This framework marks an important step towards ensuring the quality and efficacy of sports technology and has the potential to drive industry-wide improvements and contribute to the growth and development of sports technology.
Comments
There are no comments yet.