Enhancing Sports and Health Innovation: Introducing the Project Setup Template
Sports Tech Research Network 14/11/2023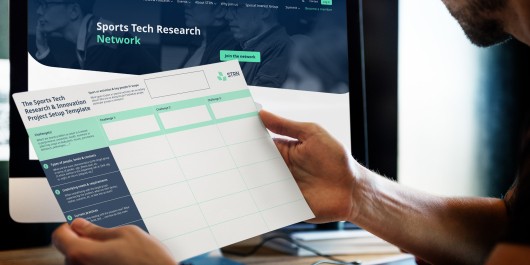 In the dynamic realm of sports and health technology, collaboration among individuals from diverse backgrounds, including academia, startups/industry, and sports/health fields, is commonplace. While this diversity brings forth a myriad of perspectives and insights, it can also pose challenges in aligning everyone towards a common goal. To address this, our team has developed a comprehensive 'Project Setup Template' tailored for science-based innovations in sports and health technology.
The Challenge
Embarking on a journey of sports scientific or technological innovation demands a structured approach. Whether the goal is securing a grant, establishing bilateral collaborations, or pursuing other projects, having a clear framework becomes paramount. The Project Setup Template is designed to facilitate effective communication and decision-making within multi-disciplinary teams, streamlining the process for increased efficiency and a higher likelihood of success.
Key Components of the Template
Defining Scope
What are the sports or activities in scope? Who are the key people involved?
Identifying Challenges
What specific challenges does the project aim to address?
The Core Questions
The heart of the Project Setup Template lies in its 10 core questions, each strategically crafted to guide teams through the crucial aspects of project development.
People, Levels & Contexts:
Identify the types of people, levels, and contexts involved.
Needs & Requirements:
Determine the underlying needs and requirements of the target group(s).
Current Practices:
Understand existing practices within the domain.
Tech & Non-Tech Solutions:
Explore both technological and non-technological solutions.
Uncertainties & Research Questions:
Address uncertainties and outline key research and innovation questions.
Jobs to be Done:
Define the tasks and objectives necessary for project success.
Adoption, Implementation & Valorization Strategies:
Develop strategies for adoption, implementation, and valorization of the project results.
Disciplines, Teams & Partners:
Identify the required disciplines, teams, and external partners.
Resources, Funding & Collaboration Models:
Plan for necessary resources, funding, and collaboration structures.
Value Creation & Impact:
Clearly articulate the targeted value creation and anticipated impact.
Conclusion
The Project Setup Template serves as a guiding compass for teams immersed in sports and health technology projects. By systematically addressing these fundamental questions, teams can align their efforts, navigate complexities, and optimize their chances for success.
Whether you are a researcher, entrepreneur, or industry professional, this template may provide a robust framework to steer your project towards tangible outcomes and impactful innovations in the world of sports and health technology.
Anything to add?
Your feedback is crucial in refining and enhancing this tool for the benefit of the broader community. Download the Project Setup Template in the horizontal or vertical version, explore its potential, and join the conversation in the comments below. Your insights matter!
Download horizontal template (PDF)
Comments
There are no comments yet.