Portable and Low-Cost Markerless Motion Capture Systems to Assess Kinematics in Sport
Sports Tech Research Network 14/06/2022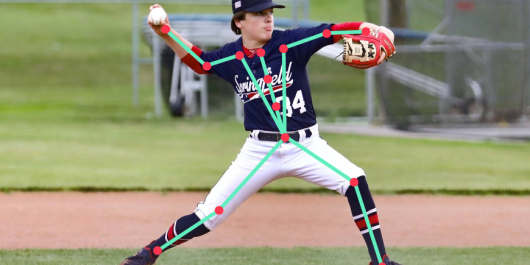 Markerless motion capture systems have improved drastically over the last 20 years. What are the capacities and considerations for implementing these types of systems?
Let's have a look at the research findings.

In the last 20 years, Markerless motion capture technology has come a long way, and it is expected to be used widely in the future. A SWOT-analysis assessing the Strengths, Weaknesses, Opportunities and Threats of these markerless motion capture systems could help researchers and clinicians to learn its capacities and considerations.
These insights are based on the research of the University of North Carolina at Chapel Hill and Elon University. Cortney Armitano-Lago, Dominic Willoughby and Adam W. Kiefer published the paper "A SWOT Analysis of Portable and Low-Cost Markerless Motion Capture Systems to Assess Lower-Limb Musculoskeletal Kinematics in Sport" (Full text). Here are the key insights. 👇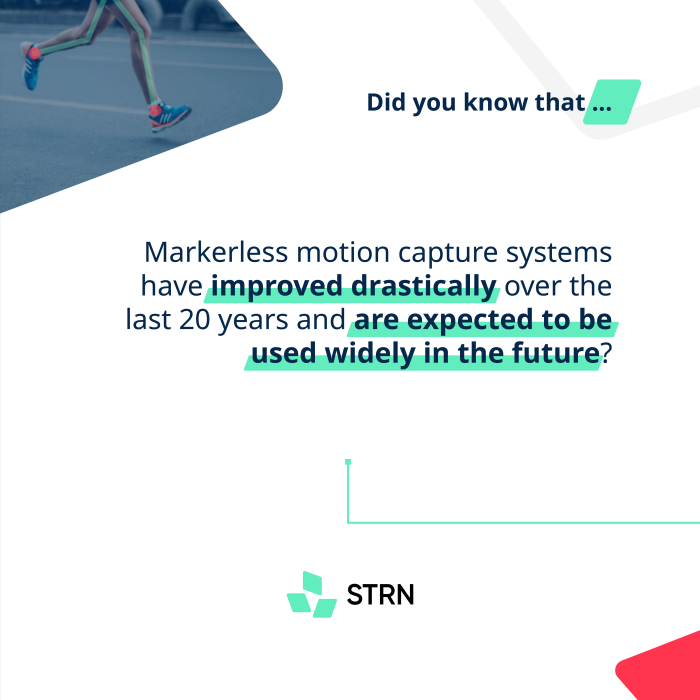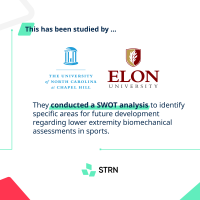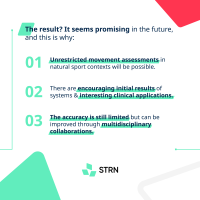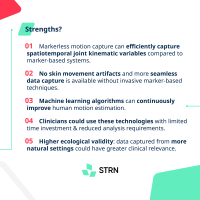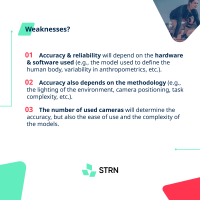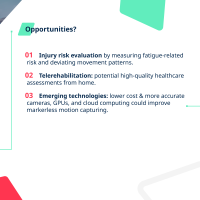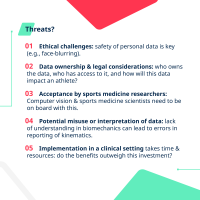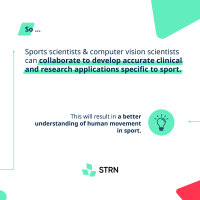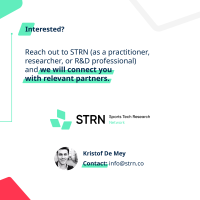 For those who like a short text version of the authors' findings, here it is:
Did you know that...
Markerless motion capture systems have improved drastically over the last 20 years and are expected to be used widely in the future?
This has been studied by researchers at the University of North Carolina at Chapel Hill and Elon University. They conducted a SWOT analysis on available markerless motion capture technologies to identify specific areas for future development regarding lower extremity biomechanical assessments in sports.
They stated that these systems seem promising in the future because:
Unrestricted movement assessments in natural sport contexts will be possible.
There are encouraging initial results of systems & interesting clinical applications.
The accuracy is still limited but can be improved through multidisciplinary collaborations.
Strengths:
Markerless motion capture can efficiently capture spatiotemporal joint kinematic variables compared to marker-based systems.
No skin movement artifacts and more seamless data capture is available without invasive marker-based techniques.
Machine learning algorithms can continuously improve human motion estimation.
Clinicians could use these technologies with limited time investment & reduced analysis requirements.
Higher ecological validity: data captured from more natural settings could have greater clinical relevance.
Weaknesses:
Accuracy & reliability will depend on the hardware & software used (e.g., the model used to define the human body, variability in anthropometrics, etc.).
Accuracy also depends on the methodology (e.g., the lighting of the environment, camera positioning, task complexity, etc.).
The number of used cameras will determine the accuracy, but also the ease of use and the complexity of the models.
Opportunities:
Injury risk evaluation by measuring fatigue-related risk and deviating movement patterns.
Telerehabilitation: potential high-quality healthcare assessments from home.
Emerging technologies: lower cost & more accurate cameras, GPUs, and cloud computing could improve markerless motion capturing.
Threats:
Ethical challenges: safety of personal data is key (e.g., face-blurring).
Data ownership & legal considerations: who owns the data, who has access to it, and how will this data impact an athlete?
Acceptance by sports medicine researchers: Computer vision & sports medicine scientists need to be on board with this.
Potential misuse or interpretation of data: lack of understanding in biomechanics can lead to errors in reporting of kinematics.
Implementation in a clinical setting takes time & resources: do the benefits outweigh this investment?
So...
Sports scientists & computer vision scientists can collaborate to develop accurate clinical and research applications specific to sport.
This will result in a better understanding of human movement in sport.
Interested?
Reach out to STRN (as a practitioner, researcher, or R&D professional) and we will connect you with relevant partners.
Comments
There are no comments yet.