Introduction
Artificial intelligence (AI) is becoming increasingly more important in our daily professional and social lives. Considering the many benefits of AI-systems, such as training and performance analysis, these systems will continue to make inroads into the realm of sports as well.
Over the past years, we have witnessed a variety of legal studies on AI and the adoption of numerous strategic documents. Examples are the White Paper on AI issued by the European Commission as well as the Ethics Guidelines for Trustworthy AI and the ALTAI Assessment List adopted by the High-Level Expert Group on Artificial Intelligence (AI HLEG).
Surprisingly, however, not much attention has been given to the many legal and ethical challenges arising from the use of AI systems in sports. This blog will discuss some sport areas in which AI systems are being deployed. The ethical and legal challenges are then addressed for each of these areas.
AI systems in sports and the legal and ethical considerations for businesses and sports organizations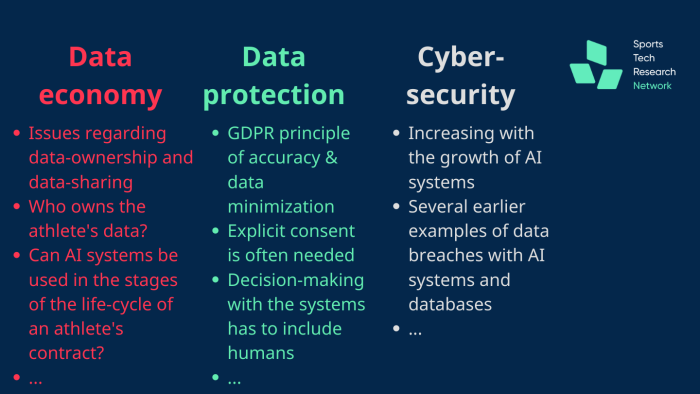 AI systems are impacting many domains in sports, such as the athletes, scouting, coaching, and tactical decision-making. The key considerations around data economy, data protection, and cybersecurity are discussed for these different domains.
1. AI systems for athletes
AI systems can enhance athletes' individual physical performances and identify their competitive advantages. A couple of examples are the following: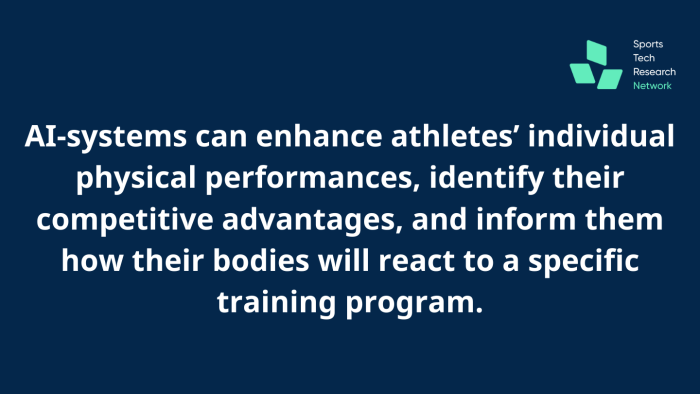 Home Court: this system uses the camera on a mobile device to turn basketball training into a live-action video game.
Tennis In/Out: this algorithm calculates the speed and placement of tennis shots to increase a tennis player's performance.
AI-systems can also inform athletes on how their bodies will react to a specific training program:
TRENARA: a running app based on an algorithm that can be used as a personal running coach.
Stat Sports: a company that even offers connected clothing to feed their AI system with data.
Considerations regarding data economy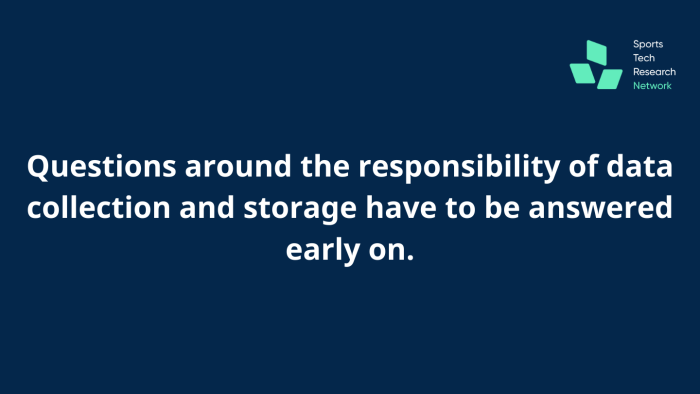 Although these examples show the benefits of AI systems for athletes, issues regarding data ownership and data-sharing may occur when different stakeholders are involved in collecting and processing data. It will need to be determined who remains responsible to ensure that an athlete's data is stored securely. Whether the data comes from wearables, sports doctors, or fitness tests, the question remains who ultimately owns an athlete's data. Some professional sports leagues have already dealt with this question.
The National Football League Players Association (NFLPA) of America for example concluded a partnership with WHOOP (manufacturer of wearables). Players in the NFL now own and control their individual data collected with the WHOOP Strap 2.0. They even have the possibility to commercialize their health data through an NFLPA group licensing program.
More generally, the question arises to which extent AI systems and data can be used in the various stages of the life-cycle of an athlete's contract (e.g. negotiation and termination). In this regard, the National Basket Association (NBA) already issued a collective labor agreement in 2017 preventing data obtained on the basis of wearables from being used in contract negotiations.
2. AI systems for scouting, coaching, and tactical decision-making
The use of AI systems can also be deployed for scouting purposes: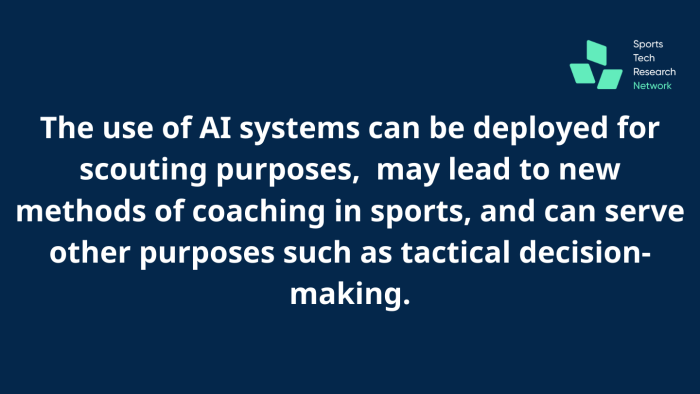 Sportlogiq: this company has developed an AI system that is able to spot talented players who would otherwise not have been discovered.
AI-systems may lead to new methods of coaching in sports:
The University of Southampton has an AI system that is able to identify the player combinations that are most important to a team, which can lead to the best line-up.
AI-systems may also be used for several other purposes such as tactical decision-making:
SkillCorner's AI-systems: Football club Liverpool uses these AI systems to track players and the ball, thereby allowing coaches to spot the teams' weaknesses on the pitch in a glimpse.
Researchers at the KU Leuven have collaborated with SciSports to develop an algorithm that can rate a football player's total impact on the game.
BioRICS also developed a stress monitoring system for race car drivers, which could increase driving performance by indicating when to change drivers.
Considerations regarding data protection
1. GDPR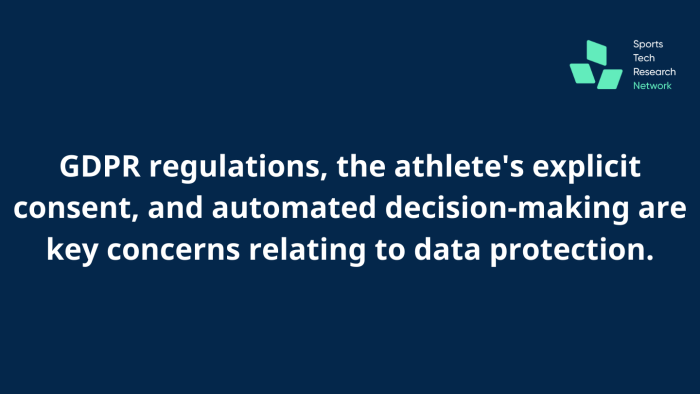 In these examples, data is being collected and analyzed in a variety of ways. Rules regarding these processes, however, have increased over the years. The GDPR contains rules relating to the protection of natural persons with regard to the processing of personal data and rules relating to the free movement of personal data. The application of some of these principles can be challenging when developing and using AI systems in sports.
The principle of accuracy, for instance, requires that personal data is accurate and kept up to date. Data used by an AI system needs to be of sufficient quality to prevent any bias. Certain players may not perform well under a specific coach or in a particular work environment/event (e.g. loss of a family member). AI systems using such type of historical data may thus take this into account to prevent inaccurate decisions regarding a player's performances and abilities.
Large amounts of personal data are required to train, develop and use AI systems in sports. At the same time, compliance with the principle of data minimization is essential. It must be ensured that any personal data is adequate, relevant, and limited to what is 'necessary' for the purposes for which it is processed. In this regard, organizations may rely on techniques to develop AI systems in sports that process as little personal data as possible, while still remaining functional.
Furthermore, personal data has to be processed in a transparent manner. The disclosure of the decision-making process of AI systems to the athlete is a much-debated issue.
2. Athlete's consent for the processing of data
There also needs to be a valid legal basis for collecting and processing an athlete's personal data. AI systems deployed in a sports context will often rely on an athlete's medical data. Keeping and processing such data can be required to ensure fitness to play, prevent/assess injuries, make tactical decisions, and to comply with anti-doping rules.
Nevertheless, health data is qualified as a 'special category' of data under the GDPR. The processing of such data is prohibited under the GDPR unless 'explicit" consent is given.
3. Profiling and automated decision-making
According to GDPR article 22, an athlete may not be subject to a meaningful decision based solely on automated processing. 'Solely' means a decision-making process that is entirely automated, thus excluding meaningful human influence on the outcome. The interaction between humans and AI systems leading to automated decision-making is, therefore, interesting to assess. To what extent, for example, did the AI system really influence a coach's decision?
As AI models are based on mathematics and data, people tend to (over)trust their output (cf. automation bias). For instance, coaches may rely on the AI system and stop questioning the actual accuracy of the output. This rule, however, only holds for decisions that produce a legal or significant effect for the athlete/club. It is not clear yet what constitutes significant and what not. When explicit consent is given by the athlete, exceptions can be made as well.
Considerations regarding Cybersecurity
The importance of cybersecurity is only increasing with the growth of AI systems in sports. The World Anti-Doping Agency (WADA) was attacked by the Russian cyberespionage group Tsar Team during the 2016 Olympics in Rio. The group gained illegal access to WADA's Anti-Doping Administration and Management System database. As a consequence, athletes' medical details were published online.
A hack of a scouting network or database containing statistics and personal data on players (e.g. health data) could have a serious impact on the sports competition. Clubs are using wearables and IoT devices more often, which increases the risk of cyber-attacks, especially considering the fact that the security of IoT devices and cloud platforms is not perfect yet.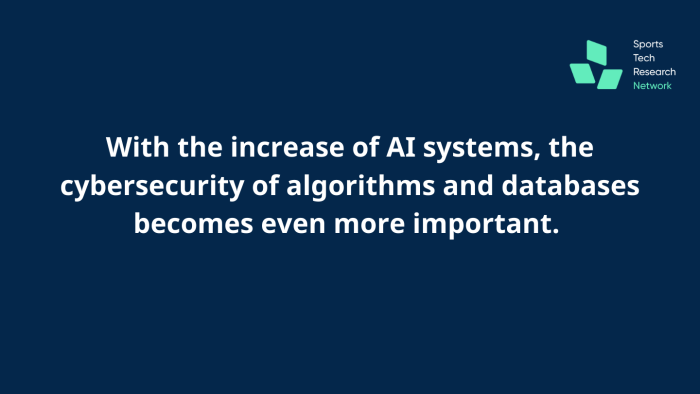 Conclusions & key takeaways for businesses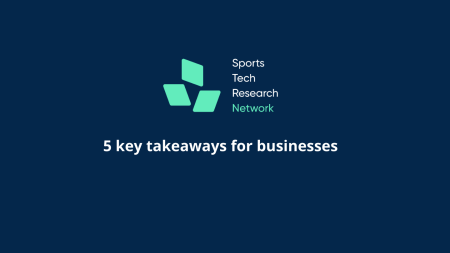 This blog identified some legal and ethical issues related to the use of AI systems in sports. The key points for sports organizations, academic institutions or entities developing AI systems to be used in sports are:
ensure compliance with and provide clarity regarding the applicable data protection provisions/principles in the GDPR;
determine or establish who remains the owner of an athlete's data;
be aware of cybersecurity risks and provide (legal) mechanisms to reduce them;
determine (if applicable and considered relevant) the ethical boundaries regarding the use of AI systems to increase sports performances;
establish what can be done with an athlete's personal data for the conclusions or termination of sports contracts.
Based on the above, it is clear that additional in-depth and inter-disciplinary research is required in this rapidly advancing field. Some researchers at the KU Leuven Centre for IT & IP Law (CiTiP) are happy to contribute to this endeavor.
This article is based on an article that was published in LawInSport. It has been adapted by the original authors (Dr. Jan De Bruyne & Michiel Fierens) in collaboration with STRN.
Looking for advice in this field?
Feel free to contact STRN and we will bring you in touch with relevant partners.